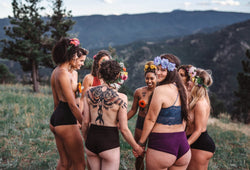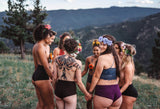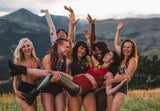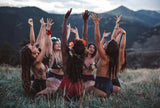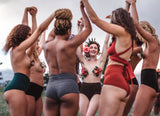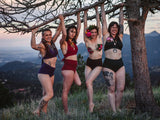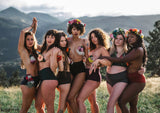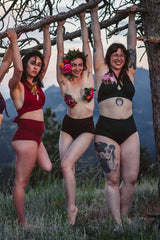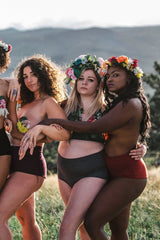 Cheeky High Waisted Hot Shorts
We made these for a goddess shoot last summer, and so many people have asked about them that we decided to list them on our shop for everyone.
Comfortable and soft, these hot shorts are made of soft cotton, and match everything else we make in the shop! They are perfect to wear as true underwear (the crotch is lined and everything) and they are also perfect for festivals and goddess retreats. The feature a cheeky bottom and a high waist to symbolize femininity and the womb, and also to be as flattering as possible :)
✥ If you want to adjust the fit, we can make these low rise, and we can make them less cheeky, message us for a custom listing if you. want either of these options.
❖ We hand make these with love in Colorado, to your color and size, and height. Please see tabs below for size guide to get the best fit, and to see our most current turn around time. <3
• Soft Stretchy 96% Cotton, 4% Spandex
• All seams serged for durability
• All hems are raw
• Gentle-delicate machine wash
• Extra-low heat machine dry
❖ How to Get the Best Fit:
*There are two ways to find your size. If you have a measuring tape, follow the fit guide below to get a perfect fit. If you don't have a tape measure, and want to go by your normal sizing, these bottoms are fairly true to size, and if anything, run a touch large compared to other brands.
*If your two hip or waist measurements span two different size categories, just choose the custom size that most suits you and let us know your exact measurements in the personalization box and we can make the hips of the pants in one size and the waistband in the other for a custom fit.
*If you want to adjust the style, we can make these low rise, and we could also make them less cheeky. If you want one of these adjustments, let us know in the personalization box.
❖ How To Measure:
Make sure to stand up straight, and get a measurement while you're at rest, not breathing in or out, but just somewhere comfortably in the middle.
Waist: around your waist at the smallest point, usually right around your navel
Upper Hip: Around the low waist, at the top of the hip bones, usually a couple inches below your navel
Lower Hip: Around the widest part of the hips and booty
❖ Fit Guide:
The XS fits:
waist: 25-26 inches
upper hip- 29-31 inches
lower hip- 33-36 inches

The Small fits
Waist: 27-28
upper hip -32-34inches
bottom hip-37-38inches
The Medium fits:
waist: 29-30 inches
upper hip- 35-36.5 inches
bottom hip 39-40 inches
The Large fits:
waist: 31-32 inches
upper hip 37-40 inches
bottom hip 41-44 inches
The XL fits:
waist: 33-34 inches
upper hip 41-43 inches
lower hip 43-47 inches
The XXL fits:
waist: 35-36 inches
upper hip 44-45 inches
lower hip 48-49 inches
Plus sizes are made only by measurement. Please choose the Custom Fit option and provide both your upper and lower hip measurements and also your height in the personalization box.
❖ You can also write us before buying for help determining your size <3
Elven Forest Creations offers conscious and uniquely crafted apparel and your purchases from us support a wonderful team of women. We put a lot of love into these clothes and because all of our designs are made by hand and made to order, orders take some time to process. 

Our orders are handmade with love when you order and our sewing time varies based on the seasons. Please allow an average of 3-4 weeks to complete before shipping (please allow up to 6-8 weeks during high volume times).

If you need something sooner than that, or by a certain date, please contact us before buying, as we can usually accommodate rush orders or take care to deliver by a certain time. 


• Sustainable Packaging •
We love keeping our business local, ethical, and sustainable. We use eco-friendly packaging, which is either biodegradable or recycled/recyclable. We send our clothing out in mailer bags made from recycled materials and also is 100% biodegradable. This means that once it is thrown away, it will decompose completely, leaving no trace behind. The tissue paper we use is recycled from other paper, as well as banana and palm leaves and can be recycled again. And the yarn used to wrap your creations is pretty enough to look beautiful braided into hair or saved for later and used to wrap a present for a friend. <3
• Domestic Orders •

Custom Shop: Once finished, all orders in the United States are shipped Priority Mail Or First class mail, depending on weight (both are 2 to 5 day delivery depending on your location). Orders within the USA come with tracking numbers, which we will email to you when we ship your order.
Premade shop: If you have purchased a premade and ready to ship item (noted in the title of your item), it will go out in the mail the following Tuesday. If you need it sent sooner than that or want to upgrade to faster, express, or overnight shipping, please send us a message before buying to see what's possible. 

• International Orders •
All packages outside of the United States are shipped First Class International Mail (time varies by which country that you are in but usually takes between 1-2 weeks). It comes with a very basic tracking number that your country may use, depending on your country and how much their mail synchs with US mail. If you want a true tracking number on an international order, please discuss this with us in advance so we can set up a custom listing for you. We can not take responsibility for lost or stolen packages. If you want to upgrade, let us know and we can add insurance to your package. 
We love our international customers! Please check with your Customs office and/or Postal Service if you are concerned about possible tariffs. If required by your country, you are responsible for paying their customs charges, if any. We wish this were different and are very grateful for our international supporters. 
Our orders are custom made, and are hand made for you after you order, to your size, color choice, (and measurements, if you give them to us). So we do not do normal returns and exchanges. However, we do tailor to perfection! If you give us your measurements upon ordering we guarantee perfect fit, and if anything is not perfect, please let us know within 5 days of receiving your package. We will tailor it to perfection for you free of any charge.
Alternately, if you have made a mistake in your measurements that you gave us upon ordering, or gave us an incorrect size without specific measurements, that is A-ok. We will tailor it for you at minimal cost, based on how long it takes to sew.
If you simply feel the design is not for you, let us know, we take partial returns with a 30% restocking fee on a case by case basis. As a small business, it is difficult for us to absorb the cost of a garment made exactly to one persons specifications.
Because our clothing is made custom, and our size charts are very accurate, it is very rare to have an issue, but if there is, rest assured, we will do everything in our power to make it perfect for you, as your experience with us is our top priority.