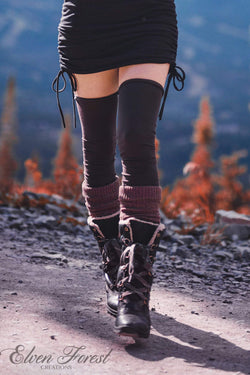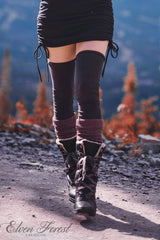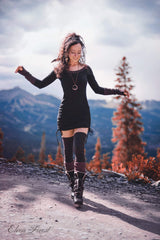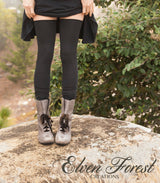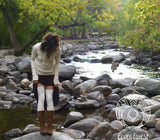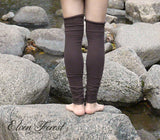 PREMADE Collection: Extra Long Cotton Leg Warmers
★★★This is a premade item ★★★ 
Even though most of our orders are custom, we do have a small premade shop with a selection of already made items, in various colors and sizes, and ready to ship out to you. Options are in the drop down menu below.
Premades ship on Tuesdays and Thursdays each week, please see the accordion tabs below for more details. All premade items can be returned, clean and unworn, for a full refund, so they are a good option to try out some of our designs.
···<❖★❖>······<❖★❖>······<❖★❖>······<❖★❖>····
Super simple extra long leg warmers made from soft cotton jersey. They have one seam and edges at top and bottom are raw. The tops can be smoothed flat on your thigh under leggings or you can roll them down a little at the top for a bulkier look. Alternatively, you can order a size up and flip them upside down on your leg, and they will be a little wider on the bottom, with a slight flare.
these are 30" long, from top to bottom, so they will reach from the top of your thigh to your ankle at their full length--if you are 5'7'' or under -- they can also be scrunched down to any point on your leg, as tall or short as you want them.
If you are taller then 5'7'' and want them to be as long as your legs, just let us know in the message box upon checkout. We can add up to 3" to the length :)
These are 30" long! So they go all the way up to the top of your thigh if you want them to.
✥ These run slightly large so if you are planning to wear them for a lot of movement, dancing, etc, please order a size down. See size tab for measurements.  
❖ We hand make these with love, to your color and size, and height. Please see tabs below for size guide to get the best fit, and for height and inseam instructions, and to see our most current turn around time. <3
•❖ Fabric Details ❖•
• Soft Stretchy 96% Cotton, 4% Spandex
• All seams serged for durability
• All hems are raw
• Gentle-delicate machine wash
• Extra-low heat machine dry
• Hang up while still warm from the dryer
•✥ Size Guide ✥•
❖ How to Get the Best Fit:
• There are two ways to order. If you have a measuring tape, follow the fit guide below to get a perfect fit. If you don't have a tape measure, and want to go by your normal sizing, these leg warmers run fairly true to size and if anything are a touch large compared to other brands, so if you are generally between sizes, go with the smaller size.
*If you plan on wearing these for a lot of movement, please order a size down in order to make sure they stay up better ~ however no thigh highs stay up on their own if you wear them way past your knees ~ so if you plan to do this, you will want to get sock garters to help secure them.
❖ How To Measure:
Make sure to stand up straight, and get a measurement while you're at rest, not breathing in or out, but just somewhere comfortably in the middle.
Calf: below knee and above ankle, your calf at widest point: 15" - 17
Knee: around your leg, right above knee: 16 - 18"
Upper thigh: if you want to wear that high, at the widest point you want to wear them on the thigh
Personalization: Height: If you are taller then 5'6" let us know in the personalization box and we will add some length for you :)
❖ Fit Guide:
These leg warmers are very stretchy. Model is wearing size XS. If you are in-between sizes, and don't know which to get, please go with the smaller size.
Size xs/small is what is shown in the photos. Keep in mind that these run a tiny bit big, so if you are going to do a lot of movement in them, please size down so they stay up!
Size xs/small fits:
Calf: 10" -12"
Knee: 12" - 13"
Thigh: 15-19"
Size small/medium fits:
Calf: 12" -13"
Knee: 13" - 14"
Thigh: 13 - 21"
Size medium/large fits:
Calf: 14" - 15"
Knee: 15 - 16"
Thigh: 15 - 23"
Size large/XL fits
Calf: 15" - 17"
Knee: 16 - 18"
Thigh: 19 - 25"
Plus sizes are made only by measurement. Please choose the Custom Fit option and provide both your upper and lower hip measurements and also your height in the personalization box.
*You can also write us before buying for help determining your size :)
•✦ Shipping Details ✦•
Domestic Orders
If you have purchased a premade and ready to ship item (noted in the title of your item), it will go out in the mail the following Tuesday or Thursday. If you need it sent sooner than that or want to upgrade to faster, express, or overnight shipping, please send us a message before buying to see what's possible.
International Orders
All packages outside of the United States are shipped First Class International Mail (time varies by which country that you are in but usually takes between 1-2 weeks). It comes with a very basic tracking number that your country may use, depending on your country and how much their mail synchs with US mail. If you want a true tracking number on an international order, please discuss this with us in advance so we can set up a custom listing for you. We can not take responsibility for lost or stolen packages. If you want to upgrade, let us know and we can add insurance to your package.
We love our international customers! Please check with your Customs office and/or Postal Service if you are concerned about possible tariffs. If required by your country, you are responsible for paying their customs charges, if any. We wish this were different and are very grateful for our international supporters.
•❖ Returns and Tailoring ❖•
Premade items are returnable for a full refund. We will gladly accept returns or exchanges within two weeks from the date you received your order. It must be returned clean and unworn. If you are planning to return a premade item, please let us know within 5 days of receiving our package, and we will give you instructions.
Ordering a standard sized item from our custom shop does not mean it's from premades. The item must say "PREMADE" in the title and have been purchased from our PREMADE section, or arranged with us by messages.
We do generally have a few extra premade things that haven't made it up onto the premade section of our website. If there is something you need in a hurry, and don't see it here, feel free to send us a message with the designs you're interested in, as well as your size and height and we'll see what we have for you.