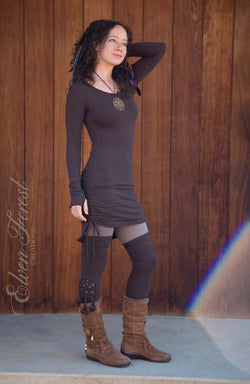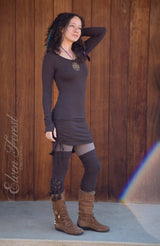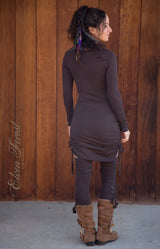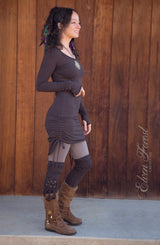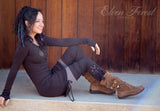 PREMADE Collection: Hi-Lo Scrunchie Boatneck Dress
This dress is fitted and flattering. The ability to scrunch up the sides makes the length somewhat adjustable; wear it as a shirt/tunic, or leave it long to wear as a knee length dress. With a wide boatneck collar, long sleeves and thumbholes, this dress is wearable all year round.
❖ We hand make these with love in Colorado. <3
• Soft Stretchy 96% Cotton, 4% Spandex
• All seams serged for durability
• All hems are raw
• Gentle-delicate machine wash
• Extra-low heat machine dry
❖Personalization Details:
• Let us know your height, so we can customize the length for you.
Also, if you have large or small hips for your size, let us know that too <3


❖ How to Get the Best Fit:
• There are two ways to order. If you have a measuring tape, follow the fit guide below to get a perfect fit. If you don't have a tape measure, and want to go by your normal sizing, this dress runs a touch large compared to other brands, so if you're normally between sizes, feel free to size down.
• If your bust and waist measurements span two different size categories, just choose the custom size button that most suits you and let us know your exact measurements in the personalization box and we will customize the fit.
• The length of your dress will be customized based on your height, so please give us that detail in the personalization box. This dress also runs a touch large in the hips so if you have smaller hips for your size, let us know and we can customize them for you.
❖ How To Measure:
Make sure to stand up straight, and get a measurement while you're at rest, not breathing in or out, but just somewhere comfortably in the middle.
Bust: around your chest at the widest point
Waist: around your waist at the smallest point
Hip: around your hips and booty at the widest point
Personalization: Height: We make these to length for your body. Give us your height in the personalization box and we will estimate the length for you.
❖ Fit Guide:
Size XS fits:
bust: 30-31"
waist 24-25"
hip: 34-36"
Size small fits:
bust: 33-34"
waist: 26-28"
hip: 36-38"
Medium fits:
bust: 35-37"
waist: 29-31"
hip: 38-39"
Size Large fits:
bust: 38-40"
waist: 32-34"
hip: 40-43"
Size XL fits:
bust: 41-43"
waist: 35-37"
hip: 43-46"
Plus sizes are made only by measurement. Please choose the Plus Size Custom Fit size and provide both your upper and lower hip measurements and also your height in the personalization box.
*You can also write us before buying for help determining your size :)