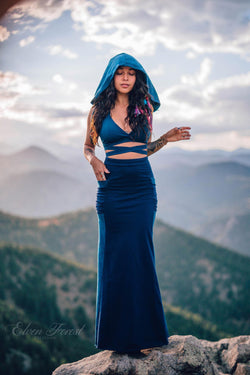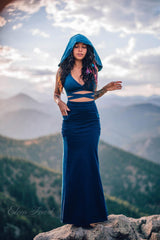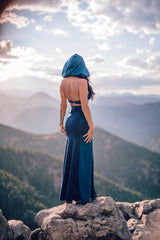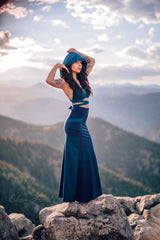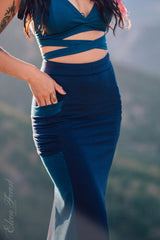 PREMADE Collection: Rouched Pocket Maxi Skirt
Flattering high waisted maxi skirt with two big rouched pockets, featuring accent colors on the cuff and side panels~ choose your color combination.

❖ We hand made these with love and they are ready to ship. <3 
•❖ Fabric Details ❖•

• Soft Stretchy 96% Cotton, 4% Spandex
• All seams serged for durability
• All hems are raw
• Gentle-delicate machine wash
• Extra-low heat machine dry
•✥ Size Guide ✥•

❖ How to Get the Best Fit:
• There are two ways to find your size. If you have a measuring tape, follow the fit guide below to get a perfect fit. If you don't have a tape measure, and want to go by your normal sizing, this skirt runs fairly true to size compared to other brands.
• We also make these custom fit in our 'Made-To-Order section. If you have custom fit needs, see our listing over there.

❖ How To Measure:
Make sure to stand up straight, and get a measurement while you're at rest, not breathing in or out, but somewhere comfortably in the middle.
Waist: around your waist at the smallest point, usually right around your navel
Upper Hip: Around the low waist, at the top of the hip bone, this is where the waistband will sit
Lower Hip: Around the widest part of the hip and bottom
❖ Fit Guide:
The extra small fits
waist: 24-25 inches
upper hip: 30-31 inches
lower hip: 34-35 inches
The small fits
waist: 26-27 inches
upper hip: 32-33 inches
lower hip: 36-37 inches
The medium fits
waist: 28-29 inches
upper hip: 34-35 inches
lower hip: 38-39 inches
The large fits
waist: 30-31 inches
upper hip: 36-37 inches
lower hip: 40-41 inches
The XL fits
waist: 32-33 inches
upper hip: 38-39 inches
lower hip: 42-43 inches
❖ You can also write us before buying for help determining your size <3
•✦ Shipping Details ✦•
•••This is a Ready-To-Ship Premade Item•••
Premade items are pieces we have already made and ready to ship. Premades ship within one week of purchase, and once in the mail, usually take 2-4 days to arrive for domestic buyers. International shipping time varies by country. If you need something by a certain day, let us know before buying so we can see if we can accommodate. See below for more details.
★Domestic Orders★
All orders in the United States are shipped Priority Mail Or First class mail, depending on weight (both are 2 to 5 day delivery depending on your location). Orders within the USA come with tracking numbers, which we will email to you when we ship your order. Premade items ordered will go out in the mail the following Tuesday, as that is our ship day. If you need it sent sooner than that or want to upgrade to faster, express, or overnight shipping, please send us a message before buying to see what's possible.
★International Orders★
All packages outside of the United States are shipped First Class International Mail (time varies by which country that you are in but usually takes between 1-2 weeks). It comes with a very basic tracking number that your country may use, depending on your country and how much their mail synchs with US mail. If you want a true tracking number on an international order, please discuss this with us in advance so we can set up a custom listing for you. We can not take responsibility for lost or stolen packages. If you want to upgrade, let us know and we can add insurance to your package.
We love our international customers! Please check with your Customs office and/or Postal Service if you are concerned about possible tariffs. If required by your country, you are responsible for paying their customs charges, if any. We wish this were different and are very grateful for our international supporters.
•❖ Returns ❖•
Our premade items can be returned, clean and unworn, for a full refund, so they are a good option to try out some of our designs. If you buy a premade and want to return it, please let us know within 5 days of receiving it. We will make you a return label and set up the return for you.