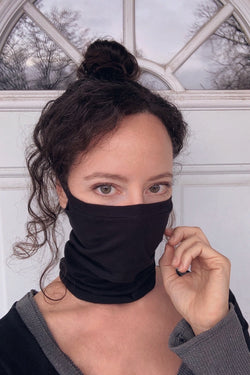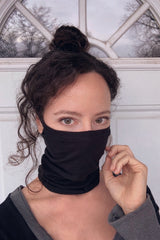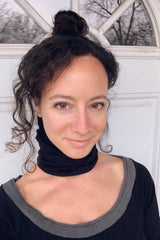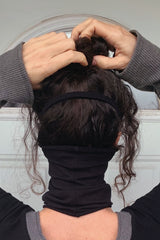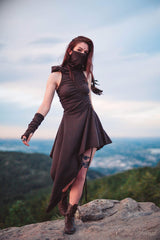 PREMADE Collection: Safe Journey Mask (ships in 1 week)
The safe journey mask is made of thick heavyweight cotton jersey and is designed to be easy to wear. You can pull it up and put the strap above your ears to keep it in place, and then when you're done, pull it down and it becomes a little turtleneck scarf.

This is the same mask we've been putting on our tops and dresses except now it's all by itself and extra convenient. Single layer and breathable, these are made from cotton and are not N95s so they will not take away from the health care professionals and will be made as face masks for lay people instead. They are like a turtleneck bandana scarf.

This is a very comfortable piece to wear, both when it's up on the face or down around the neck. The band keeping it up is not elastic, but our cotton jersey fabric rolled and sewn inside so it is extremely comfortable all day long and will not dig into your ears. It is washable and reusable and can also be worn over other masks as well if you desire.

We are making them in five sizes - but you can always give us extra fit requests in the personalization box. Please read about our fabric colors below as our fabrics vary in thickness.

IMPORTANT NOTE: This face mask is not medical grade and offers only a minimal physical barrier. It may be useful for protection against airborne particles, pollution or pollen. No claims are made for its efficacy in preventing infection or the spread of viral disease. If your circumstance requires a filtered mask, this product is not suitable for you.
·*❖ Fabric Details ❖*·

• Soft Stretchy 96% Cotton, 4% Spandex
• All seams serged for durability
• All hems are raw
• Gentle-delicate machine wash
• Extra-low heat machine dry
···★ Size Guide ★···

• Women's Petite: slightly smaller and shorter than our standard size
• Women's Regular: should fit most faces of standard size
• Women's Large: will fit larger faces as well as standard faces of people who just like things a bit more roomy
• Mens Regular: will fit most men's faces of standard size
• Mens Large: will fit mens larger faces
• Model is wearing women's petit size
•✦ Shipping Details ✦•


•••This is a Ready-To-Ship Premade Item•••
Premade items are pieces we have already made and ready to ship. Premades ship within one week of purchase, and once in the mail, usually take 2-4 days to arrive for domestic buyers. International shipping time varies by country. If you need something by a certain day, let us know before buying so we can see if we can accommodate. See below for more details.


★Domestic Orders★

All orders in the United States are shipped Priority Mail Or First class mail, depending on weight (both are 2 to 5 day delivery depending on your location). Orders within the USA come with tracking numbers, which we will email to you when we ship your order. Premade items ordered will go out in the mail the following Tuesday, as that is our ship day. If you need it sent sooner than that or want to upgrade to faster, express, or overnight shipping, please send us a message before buying to see what's possible.

★International Orders★
All packages outside of the United States are shipped First Class International Mail (time varies by which country that you are in but usually takes between 1-2 weeks). It comes with a very basic tracking number that your country may use, depending on your country and how much their mail synchs with US mail. If you want a true tracking number on an international order, please discuss this with us in advance so we can set up a custom listing for you. We can not take responsibility for lost or stolen packages. If you want to upgrade, let us know and we can add insurance to your package.
We love our international customers! Please check with your Customs office and/or Postal Service if you are concerned about possible tariffs. If required by your country, you are responsible for paying their customs charges, if any. We wish this were different and are very grateful for our international supporters.
•❖ Returns ❖•

Our premade items can be returned, clean and unworn, for a full refund, so they are a good option to try out some of our designs. If you buy a premade and want to return it, please let us know within 5 days of receiving it. We will make you a return label and set up the return for you.